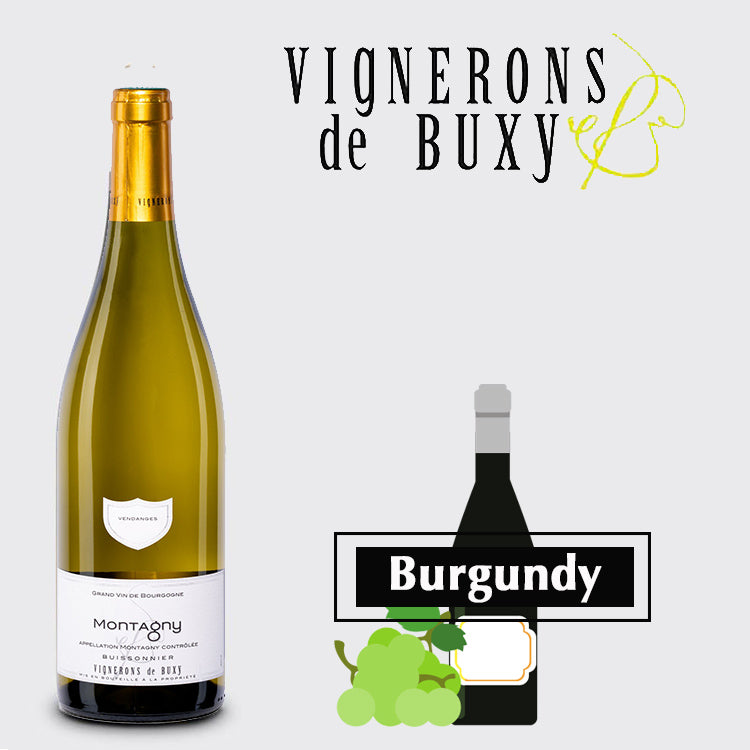 Vignerons de Buxy Montagny Chardonnay- 750ml
Not for sale
Region: AOC Montagny, Burgundy, France

Size: 750 ml
Alcohol: 13%
Grapes: 100% Chardonnay
Enjoy at 11-13°
Tasting Notes:
This wine has a brilliant light golden colour, a very intense and complex nose of exotic fruits giving way to white peach and hazelnut. It is powerful, very lively and fresh, making it very full-bodied. Spicy hints appear in the mouth. The aromas are intense and long-lasting- a gourmet wine.

We say:
The Montagny Chardonnay 2018 is a full-bodied, elegant, gourment wine with intense spicy hints, finishing with impressive length. It is an elegant companion to more exotic meals : paella, Asian cuisine... This astonishing wine is always the center of attention at any meal. The Montagny appellation produces only white wines, some critics commented that its style is comparable to the more famous appellation Pouilly-Fuissé and Côte de Beaune.
Montagny Chardonnay 2018 係一款醇厚,優雅,帶有濃烈辛辣味嘅 Chardonnay。 最適合配搭異國風味佳餚的優雅伴侶:西班牙海鮮飯,亞洲美食... 。 Montagny 蒙塔尼產區僅生產白酒,好多評論家都話,佢嘅風格可媲美更著名的產區Pouilly-Fuissé and Côte de Beaune。
Click to view product's website.