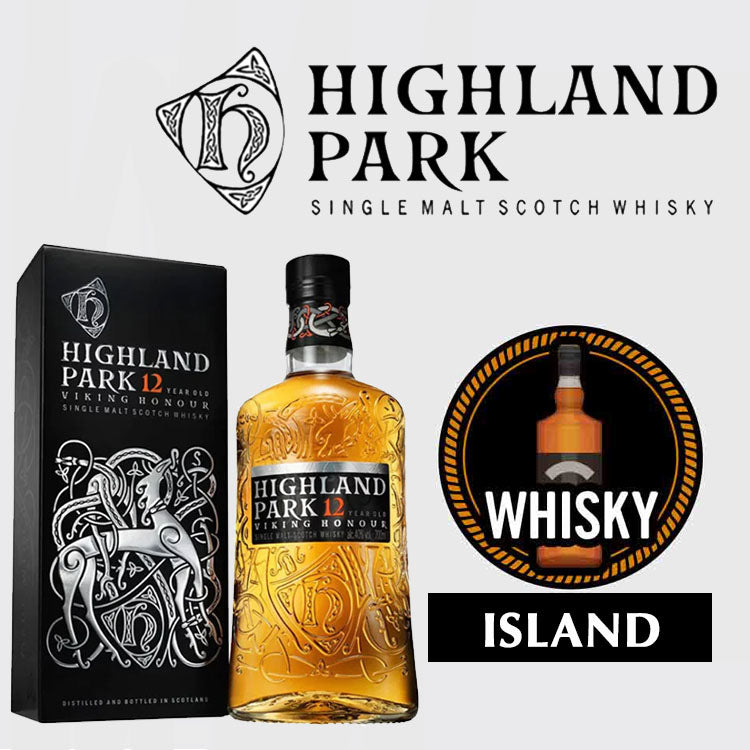 Highland Park 12 years old Single Malt Whisky
Highland Park
Region: Island, Scotland

Size: 700 ml
Alcohol: 40%
Varietal: Single Malt Whisky
***Gift Box Included***
Awards:
Double Gold- Single Malt Scotch - to 12 Yrs - 2022- San Francisco World Spirits Competition
Gold- Distillers' Single Malts 12 years and under - 2020- International Spirits Challenge
Gold- Highlands & Islands up to 12yo - 2020- The Scotch Whisky Masters (The Spirits Business)
Tasting Profile:
Heather honey | Rich fruitcake | Winter spices | Seville oranges | Aromatic smoky peat

Matured predominantly in European and American sherry seasoned oak casks, our iconic 12 Year Old single malt whisky is spicy and well-rounded, packed with the flavours of sun-kissed Seville oranges and rich fruitcake spiced with cinnamon, nutmeg and cloves; you'll find molten heather honey in this whisky's waves of heathery peat smoke. Why not try it with a handful of wasabi peas on the side or alongside a sizzling, pan-fried rib-eye steak or with smoked salmon and sour cream.
We've been crafting our award-winning whisky at the Highland Park Distillery in Kirkwall, Orkney, since 1798. Age, experience and respect for tradition may define our whisky, but it's Orkney that sets it apart. Something magic happens here and the result is the wild harmony of flavours found in our whisky.
Click to view manufacturer's website