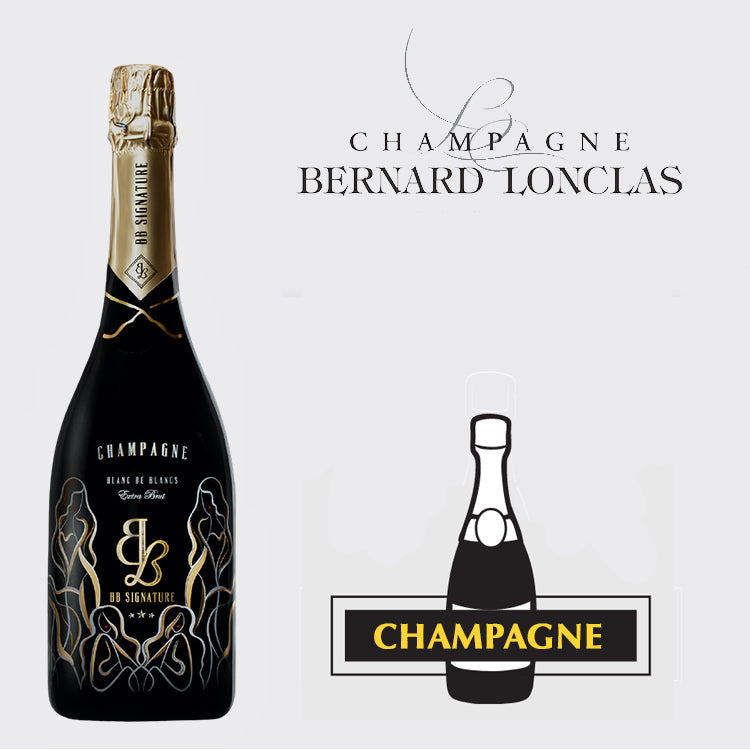 BB Signature Extra Brut Champagne
Bernard Lonclas
Region: Champagne, France

Size: 750 ml

Alcohol: 12%

Grapes: 100% Chardonnay 

Enjoy at 8-12°C
Tasting Notes:
The robe is characterized by abondant, fine and intense bubbles. This champagne reveals on the nose an explosion of purity with flavours of bun. The mouth brings a fine and lively length along with a natural and wild freshness.
Winemaking:
BB Signature is 100% Chardonnay and extra brut, truly characterised by its freshness, natural touch of sweetness and flawless mineral length. Each bottle has been raised during 48 months on the lees before being released.

The carefully selected grapes are gathered, refined and vinified in a pure stainless-steel VAT so that Malolactic fermentation is ensured, and that rich creaminess is achieved in the pop of each bubble.

Each satisfying taste provides a coruscating blend of fresh lemon, green apple and white peach. The palate is then further sensualised and finished by notes of crunchy baguette, soft honeysuckle and toasted nut. Created to sparkle at any occasion, BB Signature will be the perfect partner, accompanying you on your journey.
About the Vineyard
BB Signature is the proud produce of one of the region's exquisite vineyards, that of Bernard Lonclas. Established in 1976, Lonclas breathes new verve and spirit into the classical region and harmonises natural grace with prominent distinction to create each and every bottle of its quality champagne.
About Bernard Lonclas
Located in the heart of the typical village of Bassuet, surrounded by hillsides where the precious soil is conducive to the cultivation of Chardonnay, the Lonclas House was founded in 1976 by Bernard Lonclas. Assisted by his daughter Aurélie, Bernard Lonclas, a man passionate about the soil and wine, affirms his differences by rigorously selecting his grapes during the harvest and the different vintages. They cultivate the three grape varieties of Champagne, Chardonnay, Pinot Noir and Pinot Meunier, this entrepreneurial spirit, passion and filiation where dynamism, modernity and respect for traditions blend make the Lonclas brand one of the references of Champagne. 
Bernard Lonclas speaks in romantic terms about his life as a champagne producer. From his early memories of a cork popping and the green of the vines surrounding the family estate, the bluish-purple of the black grapes and the beautiful silvery highlights of the Chardonnays. Champagne making is a vocation for Bernard. His life revolves around champagne and especially caring for the land that allows Lonclas to grow grapes. Today, Bernard's aim, and that of his children, is to protect and preserve Nature, to whom they owe everything. For Bernard the best feeling in the world is when a customer looks at him, smiles and says what a pleasure it is to taste one of his cuvées.


Click to view manufacturer's site