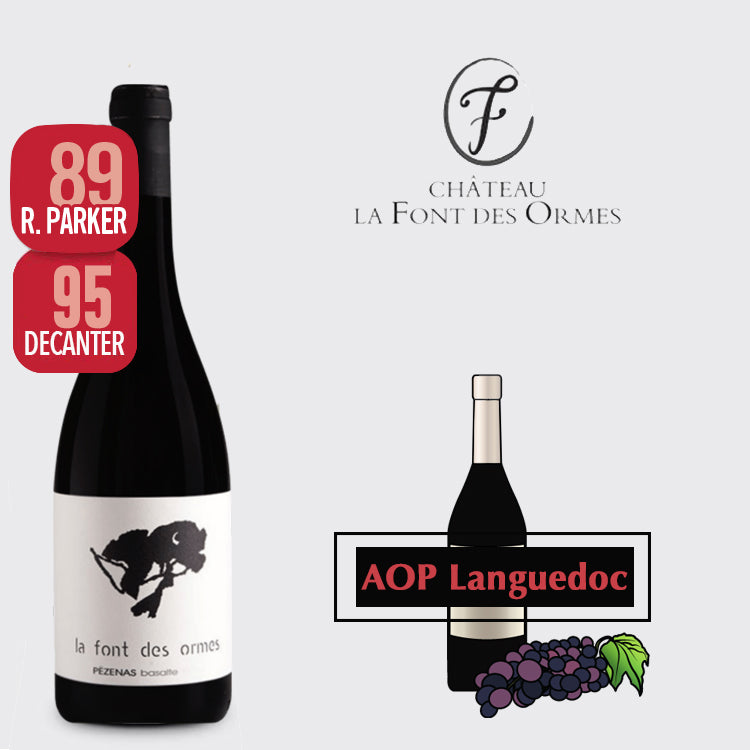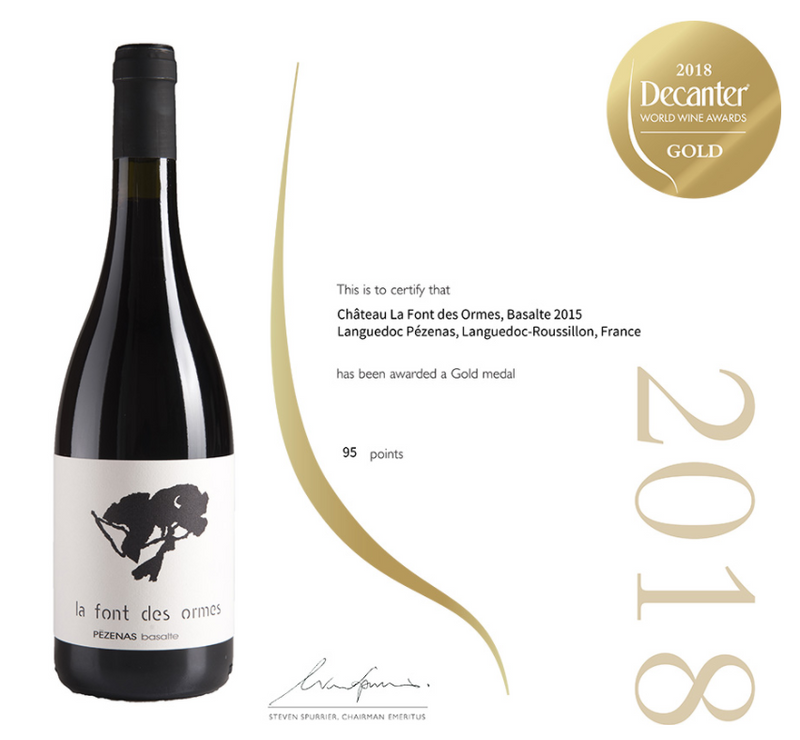 Basalte 2016
La Font des Ormes
Certified organic and biodynamic cultivation method in the process of certification.
Region: AOP Languedoc Pézenas, France

Size: 750 ml
Alcohol: 14.5%
Grapes: 40% Grenache, 30% Syrah, 30% Carignan
Enjoy at 16-18°C
Awards and ratings:
2014
Silver Medal Concours Général Agricole de Paris 2017
Guide Hachette 2017 « … l'approche est gourmande et charmeuse… »
Guide Bettane & Desseauve 2017 15,5 / 20
Note Robert Parker by Jeb Dunnuk Wine Advocate 89
Guide Hachette 2018 1 star « Une belle élégance pour cette cuvée…»
Guide Bettane & Desseauve 2018 16 / 20
2015
Bronze Medal Concours du Vigneron Indépendant 2018
Silver Medal International Wine Challenge 2018
Gold Medal Concours Decanter 95 / 100
Guide Bettane & Desseauve 2019 15 / 20
Vivino: 4.0/5
Tasting Note: 
"Basalt" combines the delicacy of aromas of sour cherries, cocoa, black fruit jelly with a good density of tannins. What makes the originality and the distinction of this cuvée is its "magnesian" character, it is these very beautiful bitters that are attributed to volcanic terroirs and which contribute to the length of the wine and its freshness.

Winemaking:
Vinification per vineyard block. Gravity filling of tanks, without crushing. Light extractions, short fermentation time of 15 to 21 days. Early reintegration of free-run and press juices. Ages in "demi-muids".
Beyond the silky elegance of its structure and its delicate aromatic complexity, what make the originality and distinction of this wine is its 'magnesian" character, these rich flavor and the noble bitterness that are attributed to volcanic soils and which participate in the wine's length on the palate and its freshness.
Soil:
Limestone Miocene basalt and scree in the Pezenas appellation area (Languedoc).
Grapevines:
organic farming, organic compost, green manure, soil tillage, severe disbudding, light thinning, little or no hedge-trimming, no grape thinning, manual harvest in small crates. Low natural yield (35hl/ha).
Click to view manufacturer's site