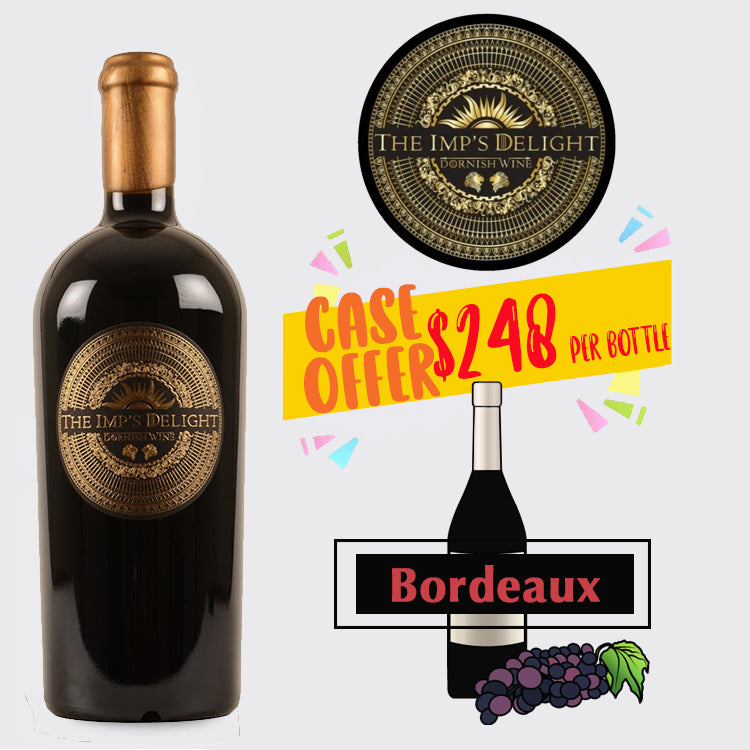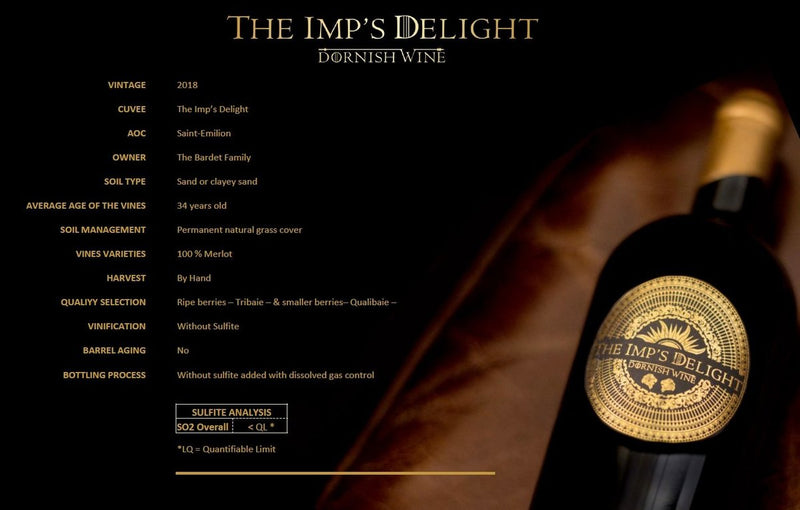 The Imp's Delight 2018- Inspired by Game of Thrones
Dornish Wine
Case Offer:  $248 - Order 6 bottles.
Region: Saint-Emilion, Bordeaux, France
Size: 750 ml

Alcohol: 13.5%

Grapes: 100% Merlot
Enjoy at 16-18°C

Ratings:
Tasting Notes
Very fruity, intense wine with a very dark colour - dark as blood - powerful but easy to drink and above all silky. 

Fantasy to real Life – Imp's Delight
"One day, after our queen has taken the Seven Kingdoms, I like to have my own vineyard, make my own wine - The Imp's Delight, only my close friends can drink it."  - Tyrion Lannister
Thibault Bardet from a Winery called Vignobles Bardet in Saint-Emilion, is a big fan of Game of Thrones. "The project began after watching an episode of Game of Thrones with a friend," Bardet told Unfiltered. "We thought that it may be very interesting to have the possibility to drink the wine from Dorne. Sadly, after some research, I discovered that there wasn't a wine like that. So I decided to make my own."
"In the TV show, they don't speak a lot about the Dornish wine taste, but in the book, there are so many descriptions about it," Bardet said. "After reading all [of the books], I had more than 40 pages of wine information. The main information was: fruity, powerful but easy to drink, and [with] intense dark color."
 For Thibault and his father, Philippe, that description had Merlot written all over it. Once they had their grape, they knew they would need to source it from vines in sandy soils, to mimic the terrain of the fictional peninsula that is Dorne; a warm, dry summer in Bordeaux in 2016 gave them appropriately Dornish weather.
The result is not one but two cuvées made in the Dornish style: Dornish Wine Castillon Côtes de Bordeaux Red 2016 and The Imp's Delight St.-Emilion Red 2016.
For more information, please check out the link below to see the story about Dornish Wine with a sweet video,
www.winespectator.com/articles/game-of-thrones-dornish-wine-st-emilion-unfiltered#.XDhLA2a6ue8.facebooks