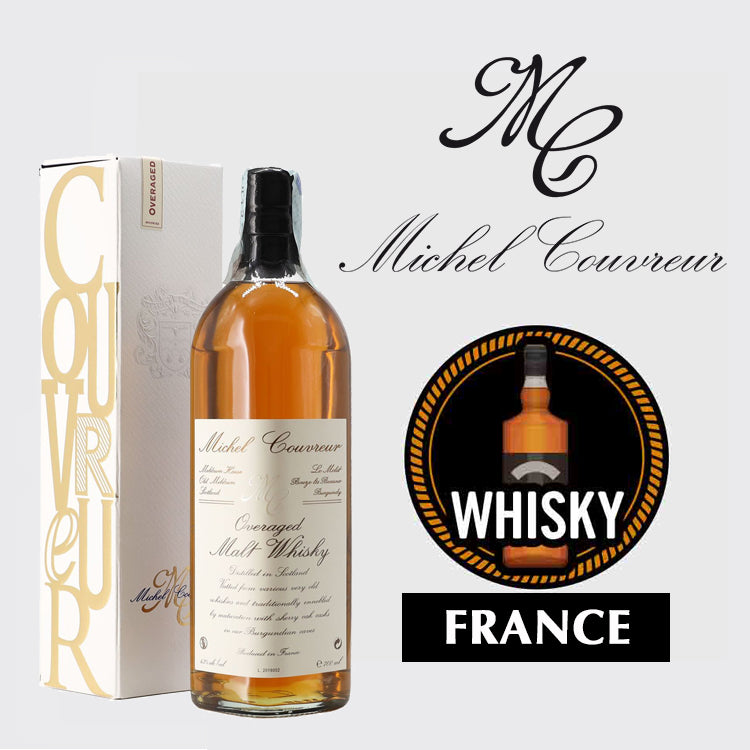 Michel Couvreur Overaged Malt Whisky 43%
Michel Couvreur
Region: France

Size: 700 ml
Alcohol: 43%
Varietal: Blended Malt Whisky
***Gift Box Included***
Overaged by Michel Couvreur is an amber whisky with a rich and full-bodied taste, with light notes of honey and dried fruit, finely peated. Fruit of the selection of ex Sherry oak barrels combined with distillation in Scotland for an all-French aging of 12 years.

Michel Couvreur's Overaged is a French Whisky made from the assembly of several Whiskeys, aged in the Burgundy region for at least 12 years in ex-Sherry casks.
The barrels in which Michel Couvreur matures his whiskys are selected directly by him during his travels in Andalusia, a region known for his Sherry, a choice aimed at precise parameters such as the intensity of the perfume and the quality of the cask, to ensure its whiskeys to develop intense and distinctive aromas.
Even the water with which Overaged is produced is carefully chosen in Scotland to guarantee a high quality product.
This Overaged is the result of a careful selection of Scottish Single Malts, expertly mixed inside the Bouze-lès-Beaune cellar and left to age for at least 12 years in oak barrels previously used for Sherry.
The color of the Overaged is revealed in a beautiful amber color, the nose releases evolutionary notes, from spicy aromas to dried fruit and the sweetness of honey. On the palate it is rich, concentrated, and full-bodied, with particular toasted and slightly peaty hints.
Click to view manufacturer's website