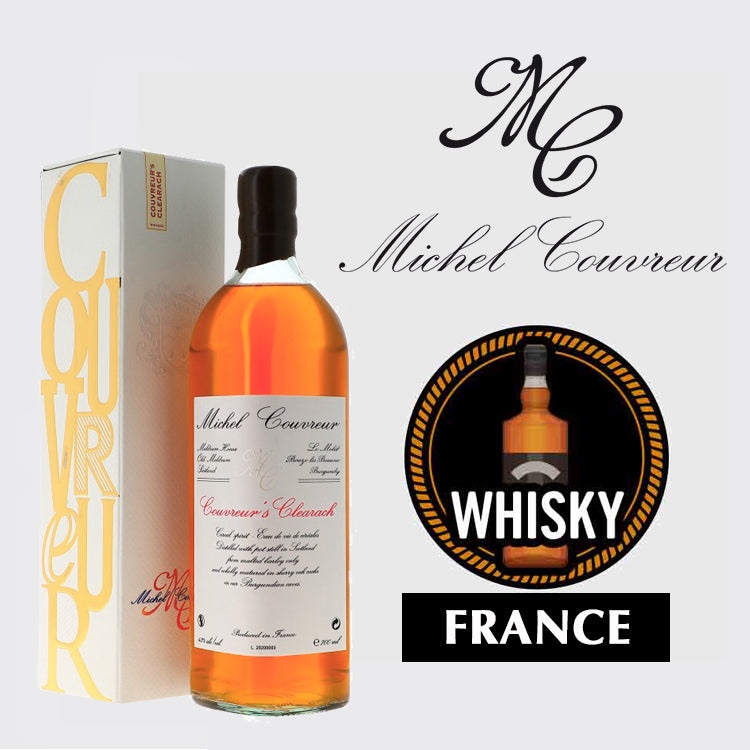 Michel Couvreur Couvreur's Clearach Single Malt Whisky
Michel Couvreur
Region: Burgundy, France

Size: 700 ml
Alcohol: 43%
Varietal: Single Malt Whisky
***Gift Box Included***
Couvreur's Clearach by Michel Couvreur is a balanced, fresh, smooth and sweet drink Single Malt Whisky with caramel notes. A Scotch whisky aged for 3 years in ex-Sherry Andalusian casks placed in the cellars of Bouze-lès-Beaune, in Burgundy.

Couvreur's Clearach by Michel Couvreur is a classic, fresh, sweet and harmonious Single Malt Whisky, aged in the Burgundy region.
The cereal used to create this Clearach distillate is an ancient variety of pearl barley of the highest quality. This whisky is distilled in pot still in Scotland and aged for 3 years in the caves of the Bouze-lès-Beaune cellar in oak barrels that previously contained Sherry time which gives this Clearach a nice lightness and the ability to adapt to all moments to relax.
The barrels in which Michel Couvreur matures his whiskys are chosen in Andalusia, a region known for its Sherry, for the intensity of the perfume and quality of the barrel, even the water with which it distils is imported into Burgundy, chosen from Lake Cathrine in Scotland .
Michel Couvreur's Whiskey Single Malt Couvreur's Clearach has a light amber color. The sense of smell receives notes of dried fruit mixed with notes of sweet spices and hints of very light caramel. In the mouth it is full-bodied and fresh, very pleasant and smooth to drink, with touches of sweetness, balanced and easy to accompany.
Click to view manufacturer's website