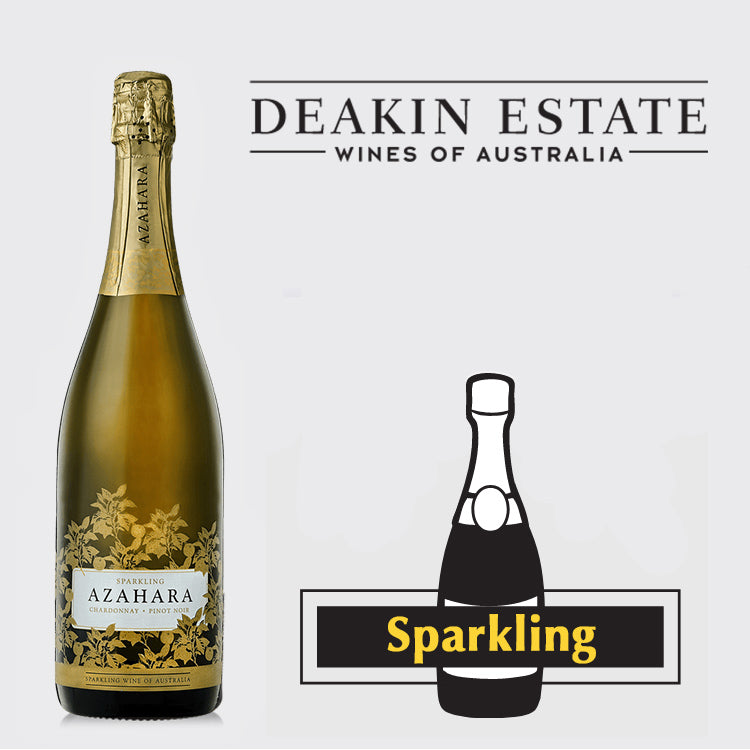 Deakin Estate Azahara Chardonnay- Pinot Noir Sparkling- 750ml
Not for sale
Region: Murray Darling, North West Victoria, Australia

Size: 750 ml

Alcohol: 12%

Grapes: : 75% Chardonnay, 25% Pinot Noir

Enjoy at 8-12°C
Awards:
5 Star Rated Winery, Expert Points - 90 - 95, Gold
Tasting Notes
This sparkling wine flaunts a light straw colour brought to life by a fine bead. The complex bouquet comprises of lemon, fresh bread and light malt aromas. This elegant nose makes way for the creamy and malty palate with lemon citrus and bready flavours. Accompanied by a persistent mousse, the wine culminates in a long finish. This wine has been specially crafted by our winemakers to be enjoyed now. Serve chilled with soft cheeses like Camembert or some crusty Italian bread and olive oil. It makes for a great celebratory drink.

About Deakin Estate
Deakin Estate wines are crafted entirely from vineyards, which lie in South Eastern Australia. Here, the mighty river weaves across the land, bringing life to the region and to our vines.
Approximately 200 000 cases per year are made and available in every state of Australia, as well as exported to most winemaking countries.
History of the Estate
The original Deakin Estate property and its wines were named in honour of that visionary, Alfred Deakin.
Purchased in 1967, Deakin Estate was planted to premium wine grapes which were sold as fruit until 1980 when a winery facility was built. By the time the Deakin Estate range was launched in 1994 some vines had achieved considerable age, whilst newer vines were being planted. Efforts have been focused on producing fruit of the highest quality and expressive wines brimming with flavour and varietal character.
The Deakin Estate winery and vineyards were sold to Duxton Group in 2020, paving a new future for the Deakin Estate and Deakin Artisan's Blend brands.
Click to view manufacturer's site